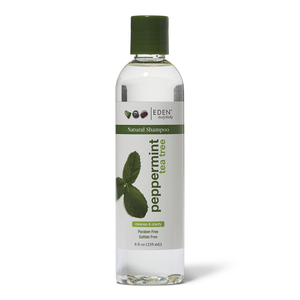 Decreases Itching and Flakes
Nourishes and Cleanses
Increases Hair Strength
An invigorating shampoo that increases scalp circulation for a refreshed, renewed feeling. EDEN BodyWorks Peppermint Tea Tree Shampoo removes all traces of dirt and oil build up. Formulated to help alleviate dry scalp with the use of pure peppermint botanicals.
Your hair will love the tingle! Nourishes and cleanses, Increases hair strength & Decreases itching and flakes.
EDEN BodyWorks was founded to address the consumer demand for all natural products that really work! Unlike most products that are purely cosmetic in nature, our products actually deliver on their promise; guaranteed. Products contain No Alcohol, No Petroleum, No Mineral Oils and No Sodium Sulfates. Your hair and skin shouldn't just look healthy; it should be healthy!