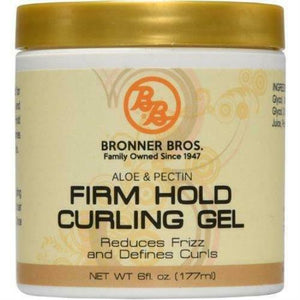 Bronner Brothers Aloe & Pectin Firm Hold Curling Gel
BB® Firm Hold Curling Gel is designed for wavy to curly kinky hair. It reduces bulk and provides weightless control. BB® Firm Hold Curling Gel enhances manageability, tames frizz, defines and elongates waves and curls.
Reduces frizz and defines curls
Enhances manageability
Elongates waves & curls
Ingredients: Curling Gel: Water, Sucrose, Glycerin, Propylene Glycol, Xanthan Gum, Phenoxyethanol, Caprylyl Glycol, Chlorphenesin, Aloe (Aloe Barbadensis) Leaf Juice, Pectin, Citric Acid and Fragrance.