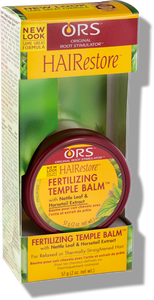 Intensive herbal-rich treatment balm nourishes and revitalizes edges and scalp to promote healthy hair growth.
Step 4 of the HAIRestore™ system designed to help fight hair loss and promote healthy hair growth, this nutrient-rich, lightweight gel-balm can be added to any haircare routine as a targeted spot treatment to nourish edges and other areas prone to thinning caused by braids, extensions and styling.
Delivers essential vitamins and nutrients to areas experiencing thinning & loss
Nourishes and rejuvenates edges & scalp
Helps create the ideal environment for hair to thrive
Promotes healthy growing hair and healthy scalp
Ideal for thinning edges associated with wearing braids
Ideal for relaxed or thermally-straightened hair
Key Ingredients
Vitamin and mineral-rich Nettle Leaf helps stimulate the scalp and promotes healthy hair
Rich in silica and selenium, minerals essential to strong, healthy hair, Horsetail helps stimulate and revitalize the scalp while strengthening and promoting healthy hair growth
Perfect For
Small areas of thinning.
Recommended Use
As a spot scalp treatment to enhance hair growth.